I've made other meatloaf dishes, but this one's a little different. Anyone who's visited an IKEA store knows about their famous Swedish Meatballs they serve in their café. They're tender, juicy, and have just the right amount of savory gravy to give you that comfort-food feeling. When they're paired up with mashed potatoes and a dab of lingonberry jam on the side, they really hit the spot during a busy day of shopping. But, the small servings always seem to leave you wanting a little bit more.
So, what if instead of little meatballs you could have that same taste in a larger size? Enter the Swedish Meatball Meatloaf. It's got the same tender juicy taste, the same savory gravy, and you can even serve them with lingonberry jam if you want.
This recipe differs significantly from the official IKEA meatball recipe, which I've also tried. For one, the spices are different; and second, this recipe calls for adding mashed potatoes to the meat mixture. I really scratched my head on that one, since it also has bread crumbs in it. My rule is to try all new recipes "as is" the first time through, and I have to say I didn't notice any significant difference in consistency or taste over using regular bread crumbs.
You'll also notice there's no photo of the gravy on top of the meatloaf. I made it, but there was a problem and it came out, well, different. I'll try to post a better photo after I have a chance to retry the gravy.
Adapted from The View from Great Island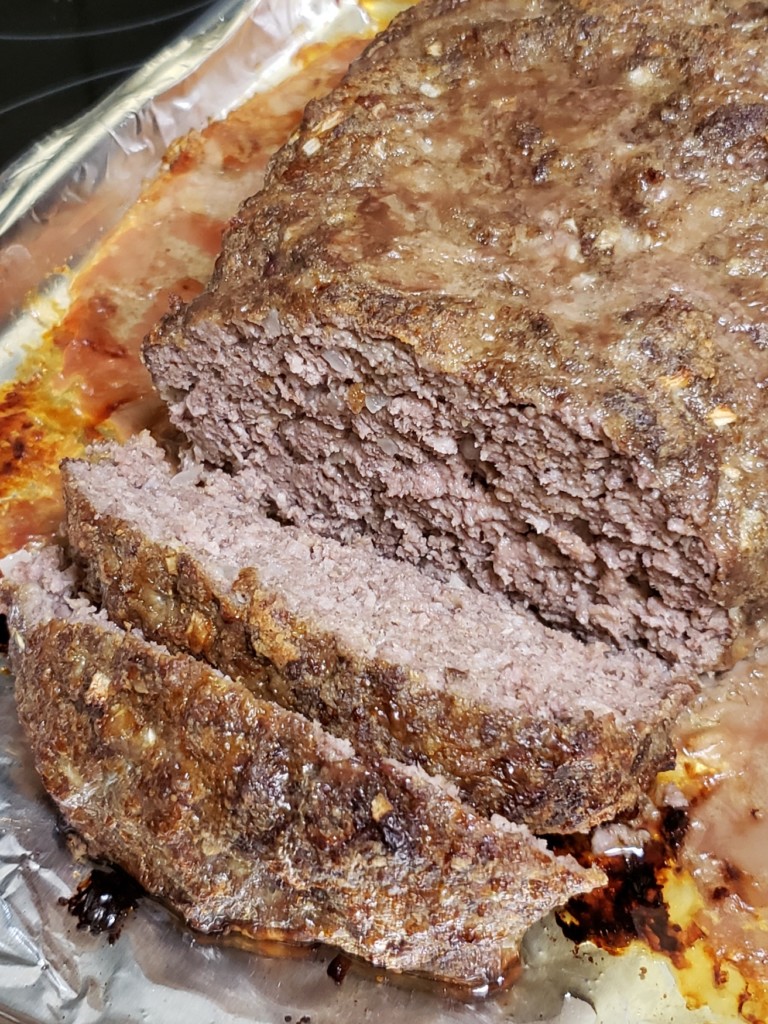 Swedish Meatball Meatloaf
Description
A meatloaf that tastes like Swedish meatballs. Add some lingonberry jam and you're all set.
Adapted from The View from Great Island
Instructions
Meatloaf
Preheat oven to 350 F. Line a rimmed baking pan with aluminum foil.

In a large mixing bowl. add all meatloaf ingredients. Mix by hand until the mixture has an even consistency.

Empty the meat mixture onto the baking pan and form into a oval shaped loaf approximately 10 inches long, 6 inches wide, and 3 inches high. Be sure the loaf is evenly shaped so it will cook evenly in the oven.

Bake uncovered for 1 hour 15 minutes, or until the internal temperature of the meat reads 155 F using a meat thermometer. Remove from oven and allow to rest 5-10 minutes before serving.
Gravy
In a saucepan, melt butter over medium heat. Add flour and stir to combine into a roux, cooking for 2-3 minutes. Do not overcook or the gravy will turn out dark.

Slowly stir in the beef broth, using a whisk to mix thoroughly and break up any lumps. Add the Worcestershire and soy sauce, followed by the pepper and nutmeg. Bring to a low boil, stirring constantly until slightly thickened.

Remove from heat. Add the sour cream and blend until smooth. Check for taste and add salt if needed.

Serve gravy over meatloaf slices. Garnish with parsley if desired.
Servings 10
---
Amount Per Serving

% Daily Value *

Total Fat 25g

39

%

Saturated Fat 12g

60

%

Cholesterol 174mg

58

%

Sodium 949mg

40

%

Potassium 768mg

22

%

Total Carbohydrate 15g

5

%

Dietary Fiber 1g

4

%

Sugars 2g

Protein 43g

86

%
---
Calcium

5

mg

Iron

25

mg

Vitamin D

31

IU
* Percent Daily Values are based on a 2,000 calorie diet. Your daily value may be higher or lower depending on your calorie needs.
Swedish meatball, meatloaf, beef, pork