While this was the Labor Day holiday weekend, unfortunately I didn't get any time off. That's a story for another time.
Instead, let's talk about school… and how busy everyone who has kids in school has suddenly become now that it's back in session. I'm an empty nester, but having raised three kids I know how hectic it can be. And one of the things that is always at the front of every parent's mind is "what am I going to fix for dinner, and how am I going to do it with so little time?" Oh, and let's not forget "and what can I make that everyone will eat?"
Hopefully this dish will help. It's got a lot of things everyone loves – cheese, pasta, cheese, smoked sausage, and did I say cheese? Or more correctly, it's really an Alfredo style sauce (with lots of cheese). It's got just enough seasoning in it to give it a bit of spice and a touch of heat, but overall good flavor.
I did make one change to this from the original version. I found when I made it there wasn't a lot of sausage to go around, so I doubled the amount on the recipe card. While I doubt your hungry crew will complain, if you find it's just too much simply cut it back to what you're comfortable with.
Adapted from Let's Dish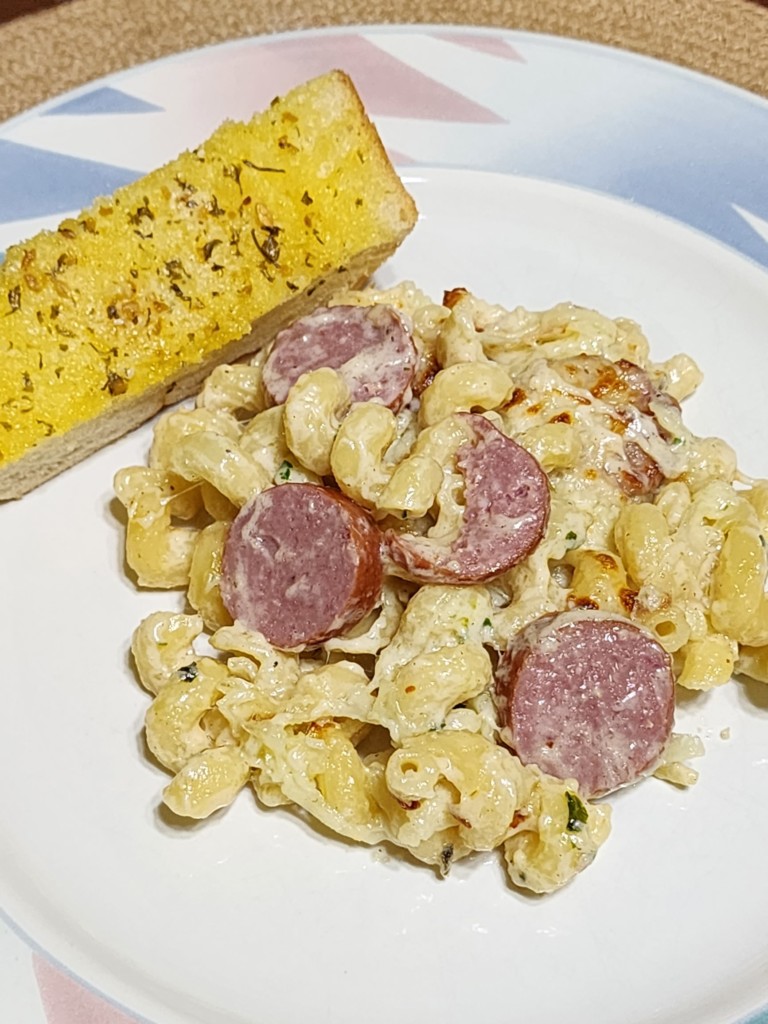 Spicy Smoked Sausage Alfredo Bake
Description
A quick meal for those busy nights when you want something fast that pretty much everyone will like from the get-go.
Adapted from Let's Dish
Instructions
Slice the smoked sausage into 1/4 inch pieces and set aside.

Prepare the pasta according to package directions, cooking until just al dente; do not overcook. Drain and set aside.

While the pasta is cooking, melt the butter in a large skillet over medium heat. Add the garlic and cook for 1-2 minutes until fragrant. Add flour and cook for 1-2 minutes, stirring constantly. Slowly whisk in chicken broth until smooth, then whisk in the half and half. Add salt, black pepper, cayenne pepper, and red pepper flakes, and simmer about 5 minutes or until sauce is thickened, stirring frequently. Reduce heat.

Add the Parmesan cheese and 1 cup of Mozzarella to the sauce, and stir until melted and smooth.  Turn on the oven broiler to High and lightly spray a 9 x 13 casserole dish with nonstick cooking spray.

Add the sausage, pasta, and parsley to the sauce and stir to combine evenly. Pour the mixture into the casserole dish, then top with the remaining Mozzarella cheese.

Place dish in the oven until the cheese is melted and lightly browned, about 3-4 minutes. Remove and serve immediately.
Serving Size approx 9 ounces
Servings 8
---
Amount Per Serving

% Daily Value *

Total Fat 36.2g

56

%

Saturated Fat 18.3g

92

%

Cholesterol 89mg

30

%

Sodium 1177mg

50

%

Potassium 714mg

21

%

Total Carbohydrate 53.4g

18

%

Dietary Fiber 3.5g

15

%

Sugars 4.2g

Protein 25.1g

51

%
---
Calcium

177

mg

Iron

4

mg

Vitamin D

120

IU
* Percent Daily Values are based on a 2,000 calorie diet. Your daily value may be higher or lower depending on your calorie needs.
Notes
"Short pasta" refers to pasta shapes that are shorter in length compared to spaghetti or linguine. Examples of short pastas:

Rotini (spirals)
Conchiglie (shells)
Cavatappi (corkscrews)
Penne (short cylinders with angled edges)
Farfalle (bowties)

The original recipe called for 12 ounces of smoked sausage. This version doubles the amount as it seemed lacking in the finished dish. Adjust the amount according to your tastes.
To add more spice, increase the amount of red pepper flakes to 1/2 teaspoon.
smoked sausage, alfredo sauce, mozzarella cheese, quick dinner