I've mentioned once or twice that I can't eat fish, but I do love shellfish (yeah, I know, most people are just the opposite and can't eat shellfish). In particular, I enjoy eating shrimp. So, when an opportunity comes up to prepare a shrimp dish, I tend to jump on it. This is one of those times.
When I was growing up, my dad liked to make clam chowder. Chowders seem to fall somewhere between soups and stews; they were developed in New England where my dad grew up, and are generally milk or cream based (however, there is a type of chowder called "Manhattan" which is tomato based). I previously tried a delicious chowder using ham, potatoes, and corn which you can find at this link.
I had considered trying to make a clam chowder like my dad's, but his recipe is lost to history. When I came across this one using shrimp instead of clams, it seemed close enough that I decided to give it a try.
Adapted from The Flavours of Kitchen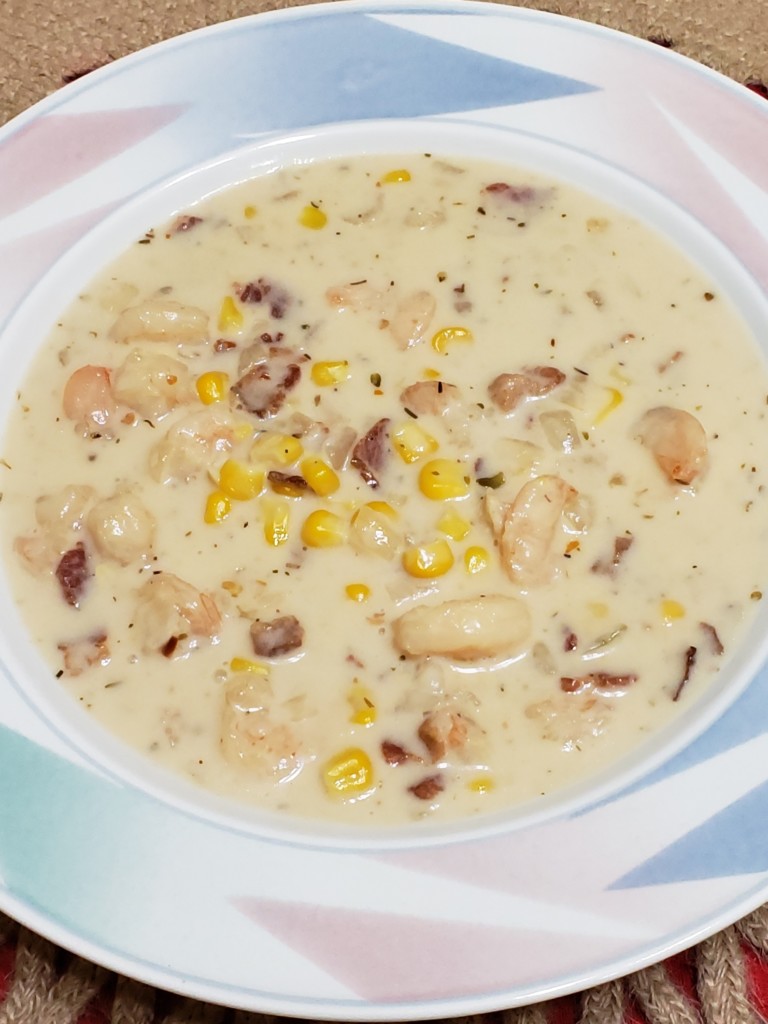 Shrimp and Corn Chowder with Bacon
Description
A delicious chowder that's easy and fast to make, perfect for a busy weeknight.
Adapted from The Flavours of Kitchen
Instructions
In a cookpot or Dutch oven, cook the bacon over medium-high heat until crispy. Remove the bacon pieces and set aside. Discard any excess bacon grease.

Add butter to the cookpot and allow to melt. Add onion and garlic, cooking until the onion has softened.

Add the flour and sauté for two minutes, stirring frequently. Slowly add half the chicken broth, stirring the mixture to avoid lumps. Add the remaining half of the broth and mix thoroughly. 

When the mixture just begins to boil add the shrimp, corn, oregano, thyme, and red pepper flakes. Stir to combine. Reduce heat, cover, and simmer for 10 minutes.

Add the bacon back to the cookpot along with the heavy cream, and stir to combine. When the cream has warmed (1-2 minutes), remove from heat and serve.
Servings 5
---
Amount Per Serving

% Daily Value *

Total Fat 29g

45

%

Saturated Fat 15g

75

%

Cholesterol 269mg

90

%

Sodium 1125mg

47

%

Potassium 469mg

14

%

Total Carbohydrate 18g

6

%

Dietary Fiber 2g

8

%

Sugars 3g

Protein 31g

62

%
---
Calcium

10

mg

Iron

13

mg

Vitamin D

94

IU
* Percent Daily Values are based on a 2,000 calorie diet. Your daily value may be higher or lower depending on your calorie needs.
Notes
Any size shrimp can be used, as long as the total weight is the same. Medium size shrimp were used in the recipe photo.
Shrimp can be raw or pre-cooked. If using raw, check the shrimp while simmering and adjust cooking time if needed.
Potatoes are often used in chowders, but were not included this recipe. If potatoes are desired, peel and dice into small pieces add them after the chicken broth and allow to cook for 15-20 minutes before adding the shrimp and corn, otherwise the potatoes will be undercooked. Adjust liquids as needed.
shrimp, corn, chowder, bacon