Last year on Easter Sunday, I chose not to prepare and post a dinner dish; many families have traditional Easter meals, and I decided to feature a dessert instead. It seemed to go well, and since my daughter's birthday was also on Easter this year (and she does have quite a sweet tooth) I figured it would be a good idea to try another dessert.
This time, though, I also wanted to fulfill a request. I had mentioned in a conversation with a friend how much I enjoyed my mom's scratch-made banana pudding when I was growing up, and she asked me for the recipe. Well, I finally talked with my mom about it, and (in her typical fashion) she started rattling off ingredients, which I dutifully wrote down. But, she didn't give me any firm measurements for them. "Oh, I just put things in as I go along" she said.
Challenge accepted.
I started looking at her list and searched around for similar recipes, hoping to get a starting point for measuring so I'd have a fighting chance at making something that had a decent taste. While I never found exactly what she used (and I never expected to), I did come across several other recipes that at least had enough of the same ingredients that I could figure out the proportions I needed. She also mentioned some things she did that definitely weren't in those other recipes, so I knew the result would still bear her creative mark.
I must have done something right… my daughter had two helpings of it 🙂
Adapted from My Mom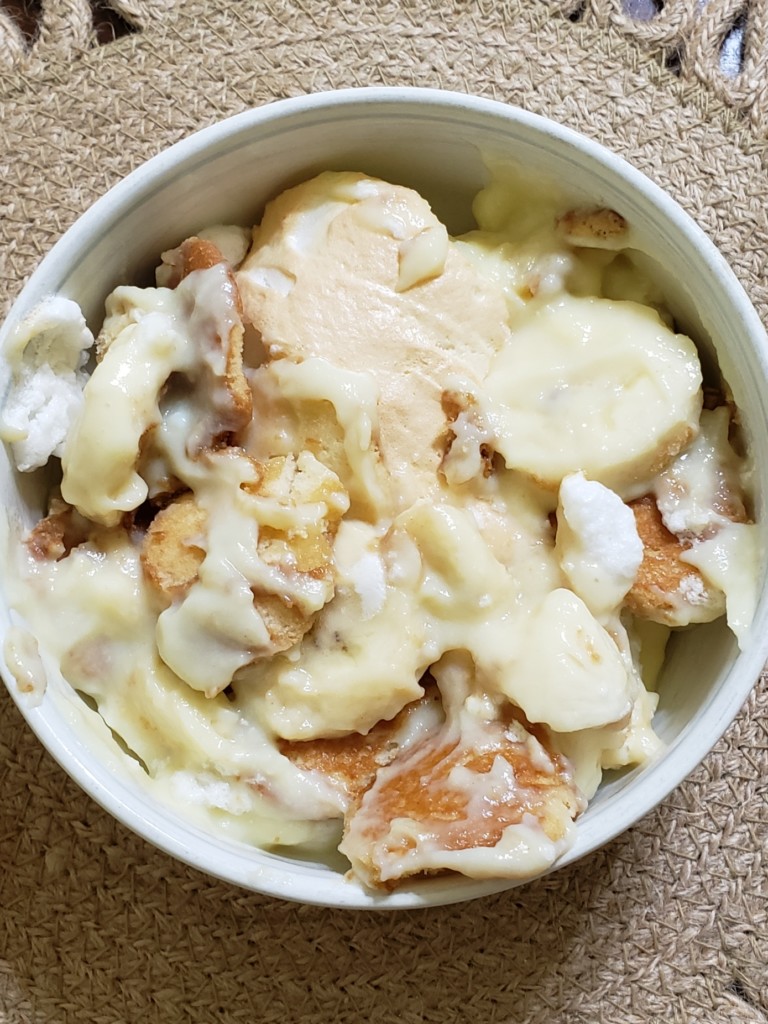 Mom's Banana Pudding
Description
My mother's made-from-scratch banana pudding, combining her "pinch of this and dash of that" with my attempt to actually measure out those pinches and dashes.
Adapted from My Mom
Instructions
To make the filling, separate 4 of the eggs into yolks and whites, setting the whites aside. In a saucepan mix the four yolks, 3/4 cup of sugar, flour, 1/8 teaspoon of salt, the remaining whole egg, and milk. Heat mixture on medium-low, stirring frequently, until thickened (about 15 minutes). Remove from heat and add vanilla extract, mixing until well blended.

Preheat oven to 400 F. Line the bottom and sides of a 13 x 9 casserole dish with a layer of vanilla wafers. Just as the filling thickens, cut two of the bananas into slices and layer on top of the vanilla wafers. Gently spread half of the filling evenly on top of the bananas. Repeat the layers of vanilla wafers, bananas, and filling.

To make the meringue combine the egg whites, 1/4 cup of sugar, and 1/8 teaspoon of salt in a bowl. Using a stand mixer, hand mixer, or whisk, beat the mixture until it foams to the "stiff peak" stage. Spread the meringue evenly over the top of the pudding. 

Bake for 4-7 minutes or until the top of the meringue is a golden brown. Remove and allow to rest/cool for 10-15 minutes before serving warm or allow to chill in the refrigerator for 1-2 hours before serving cold.
Servings 12
---
Amount Per Serving

% Daily Value *

Total Fat 7g

11

%

Saturated Fat 3g

15

%

Cholesterol 73mg

25

%

Sodium 206mg

9

%

Potassium 201mg

6

%

Total Carbohydrate 49g

17

%

Dietary Fiber 2g

8

%

Sugars 32g

Protein 6g

12

%
---
Calcium

6

mg

Iron

3

mg

Vitamin D

34

IU
* Percent Daily Values are based on a 2,000 calorie diet. Your daily value may be higher or lower depending on your calorie needs.
Notes
Do not substitute plain flour for the self-rising flour. The self-rising flour thickens better.
Depending on the box of vanilla wafers, there may not be enough to completely cover the second layer. If not, simply spread them out as evenly as possible.
The bananas should be sliced into disks of between 1/4 and 1/3 inch thick to ensure good coverage in each layer.
banana, pudding, dessert, scratch-made, made-from-scratch