The story of French Bread Pizza dates back to 1960 when a food truck owner in Ithaca, New York (home of Cornell University) named Bob Petrillose started making and selling pizzas using French bread because he allegedly didn't like selling pizza by the slice. He called it PMP or "Poor Man's Pizza". It finally hit the mass consumer market in 1974 when Stouffer's started selling frozen pizzas in supermarkets.
Part of the allure of French Bread Pizza is being able to make it at home, letting you customize it with exactly the toppings you want on it. My dad used to make it when I was growing up, and it was always a hit in our family. I don't recall him ever making his own pizza sauce for it, choosing instead to buy it while picking up the rest of the ingredients.
I decided to go one better, and try to make my own pizza sauce using one of many different recipes posted online. What's the difference between pizza sauce and spaghetti sauce? Pizza sauce isn't cooked before it goes on the pizza – it cooks with the pizza. This one's pretty simple, and has a good basic flavor; you could change it up a bit by adding other seasonings (I found versions that use fennel, basil, and even anchovy paste – yuck!). It makes about two cups of sauce, which should be plenty for most sized loaves of French bread (and whatever you have left over makes a great dipping sauce).
More about that bread… it's the key to the entire pizza. The loaves I usually get are long and narrow (at least larger than a baguette), but some are much wider like Italian breads. This can have a big impact on how much sauce and toppings you can pile on them (for example, the as-found recipe I used called for three cups of pizza sauce, but the loaf I bought could barely hold one cup). So, you'll need to be a bit flexible with some of the measurements.
Another key item is keeping the bread from getting soggy while it bakes. This is done by "pre-baking" it with a coating of olive oil to crispen the outer edges.
Toppings can be whatever you want on your pizza – I created a "supreme" version that included Italian sausage, onions, mushrooms, pepperoni, and black olives, but you could also have peppers, ground beef, ham, bacon, or even pineapple. This is truly a "take it and make it your own" kind of dish.
Pizza adapted from Serena Bakes Simply from Scratch
Sauce adapted from Four Hats and Frugal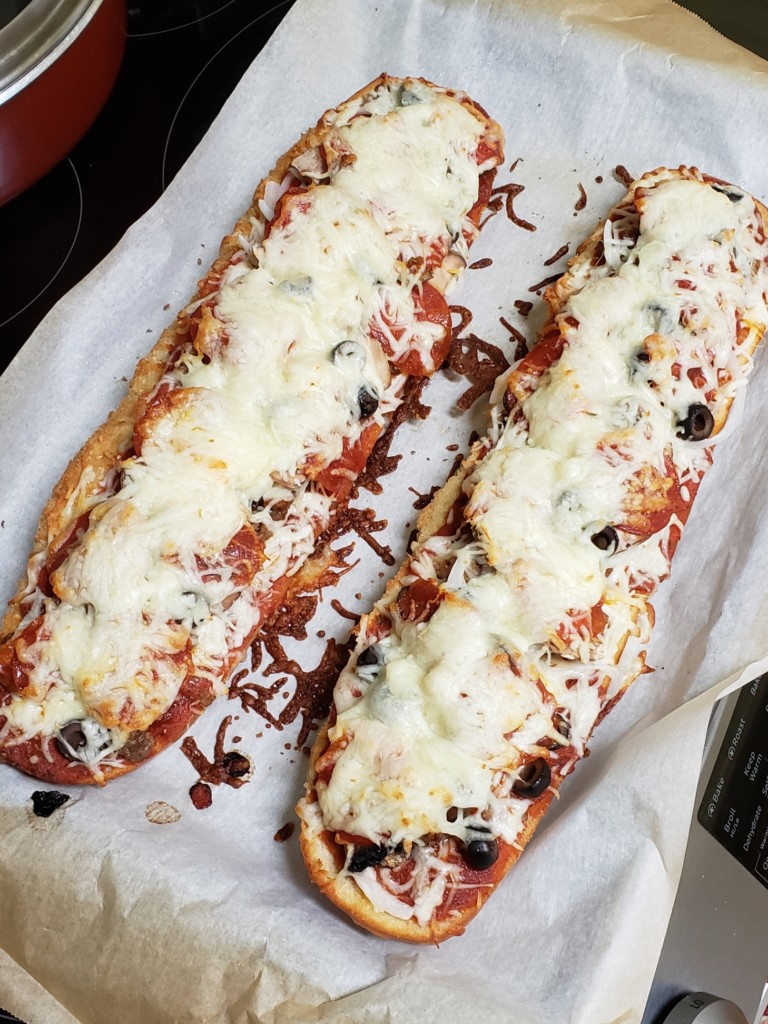 French Bread Pizza with Homemade Sauce
Description
A classic, easy to make pizza made completely from scratch (including the sauce). The toppings on this version include Italian sausage, mushrooms, onions, pepperoni, and black olives, but can be customized to suit any taste.
Pizza adapted from Serena Bakes Simply from Scratch
Sauce adapted from Four Hats and Frugal
Pizza Sauce (yield approx. 2 cups)
Pizza
Instructions
Pizza Suace
In a large bowl, combine all ingredients and whisk together until smooth. Cover and refrigerate for at least 2 hours to allow the flavors to blend.
Pizzas
Preheat oven to 450 F. Line a large baking sheet with parchment paper.

Brush the bread inside and out with the olive oil. Place the bread on the baking sheet and toast in the oven 3-4 minutes or until lightly browned. Remove from oven but do not turn oven off.

Spread the pizza sauce evenly on the cut side of both halves of the loaf. Spread 1/4 of the cheese over the sauce, then add toppings (sausage, onions, mushrooms, pepperoni, olives) as desired. Spread remaining cheese evenly over toppings. Sprinkle Italian seasoning on the cheese if desired.

Return pizzas to the oven and bake 5-7 minutes or until cheese has melted and edges begin turning brown. Remove and let rest 5 minutes before serving.
Servings 6
---
Amount Per Serving

% Daily Value *

Total Fat 38g

59

%

Saturated Fat 12g

60

%

Cholesterol 61mg

21

%

Sodium 1524mg

64

%

Potassium 597mg

18

%

Total Carbohydrate 52g

18

%

Dietary Fiber 5g

20

%

Sugars 8g

Protein 30g

60

%
---
Calcium

8

mg

Iron

29

mg

Vitamin D

264

IU
* Percent Daily Values are based on a 2,000 calorie diet. Your daily value may be higher or lower depending on your calorie needs.
Notes
The quantities of ingredients can vary widely depending on the size of the bread loaf and personal preferences. For the recipe's Nutritional Guide, the following quantities were used:
2 cups pizza sauce
8 ounces Italian sausage
3 ounces mushrooms
4 ounces pepperoni
1 cup sliced onion
2 ounces black olives
8 cups Mozzarella cheese
French bread, pizza, homemade sauce, tomatoes, cheese, baked, sausage, pepperoni, family dinner, customizable