In the 1980s I attended college in Marietta, Georgia. There was a small family-run restaurant near the campus called The Italian Kitchen; many of us students would visit because it had excellent food at reasonable prices. One of the most popular menu items was called Pasta Supreme, which was a casserole-type dish that had a rich creamy sauce, lots of cheese, and fillings including chicken, Italian sausage, ham, and mushrooms, which could be ordered in any combination.
Fast forward about 30 years… I recently found a posting on social media from a group that collects notes, photos, and stories from "way back when" in Marietta talking about The Italian Kitchen – and included in the photos was a picture of a worn piece of paper containing the recipe for making Pasta Supreme. Feeling nostalgic, I decided to give it a try.
But, as I was reading through the ingredients I noticed some inconsistencies in quantities; for example, it described such a small amount of actual pasta for a 9 x 13 casserole dish it wouldn't have had much to actually taste. So, I carefully worked my way through the list and came up with what appears to be a lot closer to what was actually served.
For this recipe, I decided to include all of the original fillings – sort of an "ultimate" version of this dish. You can adjust them as desired, leaving off or adding on in whatever quantities you prefer.
With homage and inspirational credit to The Italian Kitchen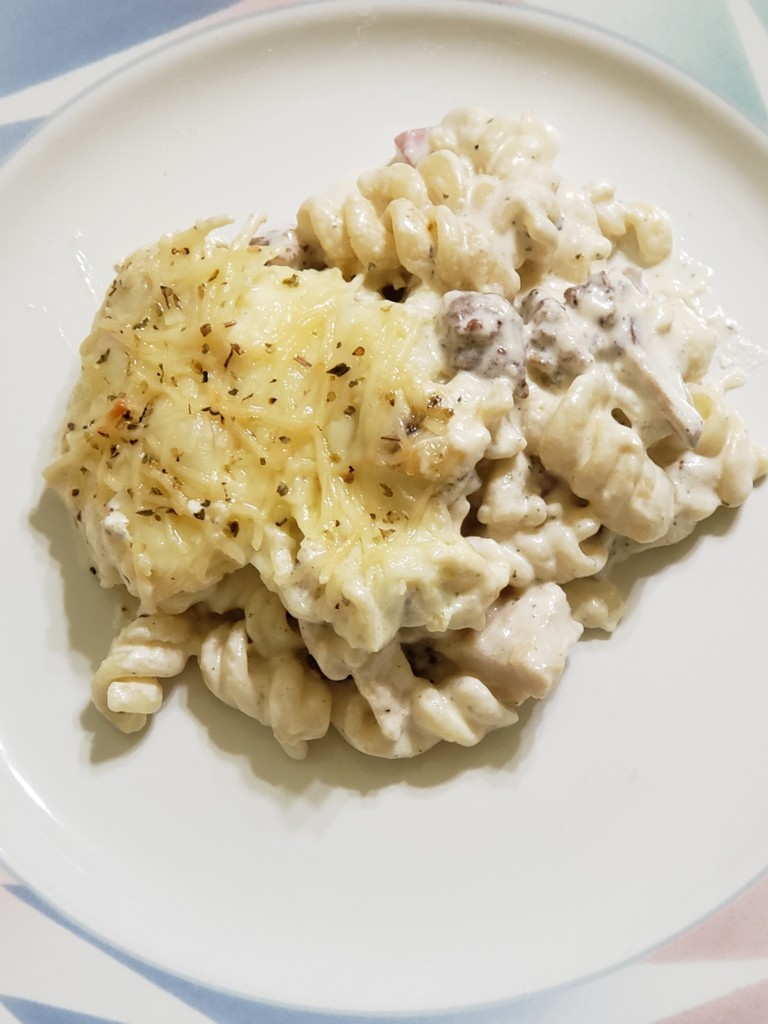 Copycat Italian Kitchen Pasta Supreme
Description
A re-creation of a dish first served in The Italian Kitchen, a family-owned restaurant that operated in Marietta, Georgia in the 1980s but sadly no longer exists. This recipe is based on a photo containing an ingredient list posted on a social media page that is dedicated to preserving Marietta history, with selected modifications to the proportions of some ingredients.
With homage and inspirational credit to The Italian Kitchen
Instructions
Prepare rotini pasta according to package directions, draining well. Cook chicken and Italian sausage as needed, cutting the chicken into bite-sized cubes and breaking up the sausage into small chunks while cooking.

If making the ranch dressing from seasoning packets, use a large bowl and follow packet directions to whisk together ingredients (usually seasoning, buttermilk, and mayonnaise).

In a 9 x 13 casserole dish, line the bottom with the cooked pasta. Layer each of the fillings (chicken, sausage, ham, mushrooms) evenly on top of the pasta. Top the fillings with Mozzarella cheese. Pour the ranch dressing over the cheese. Finally, cover with Parmesan cheese and sprinkle with oregano if desired.

Bake for 25-30 minutes or until the mixture is bubbly and the cheese begins to brown. Remove and let rest for 5 minutes before serving.
Servings 8
---
Amount Per Serving

% Daily Value *

Total Fat 58g

90

%

Saturated Fat 15g

75

%

Cholesterol 103mg

35

%

Sodium 1874mg

79

%

Potassium 203mg

6

%

Total Carbohydrate 42g

15

%

Dietary Fiber 1g

4

%

Sugars 8g

Protein 33g

66

%
---
Calcium

19

mg

Iron

10

mg

Vitamin D

158

IU
* Percent Daily Values are based on a 2,000 calorie diet. Your daily value may be higher or lower depending on your calorie needs.
Notes
The original dish was offered with a choice of fillings: chicken, Italian sausage, ham, and mushrooms. While this recipe includes all of them at the same time, you can use any combination of these as you prefer.
You can use mild, sweet, or hot Italian sausage
Italian Kitchen, pasta, chicken, sausage, ham, mushroom, ranch dressing