In Texas, there are three foods which are considered "sacred" – brisket, chili, and chicken fried steak. Of these, chicken fried steak is often called the unofficial state dish of Texas. The basic dish of breaded and pan-fried or deep-fried cube steak covered in either a white (milk) or brown (beef) gravy is believed to have evolved from wiener schnitzel, a popular dish of Germans immigrants who settled in Texas during the 1800s.
This dish is a simple variation which substitutes ground beef in the place of cube steak. It includes a side recipe for white (milk) gravy made from the pan drippings.
Adapted from Spicy Southern Kitchen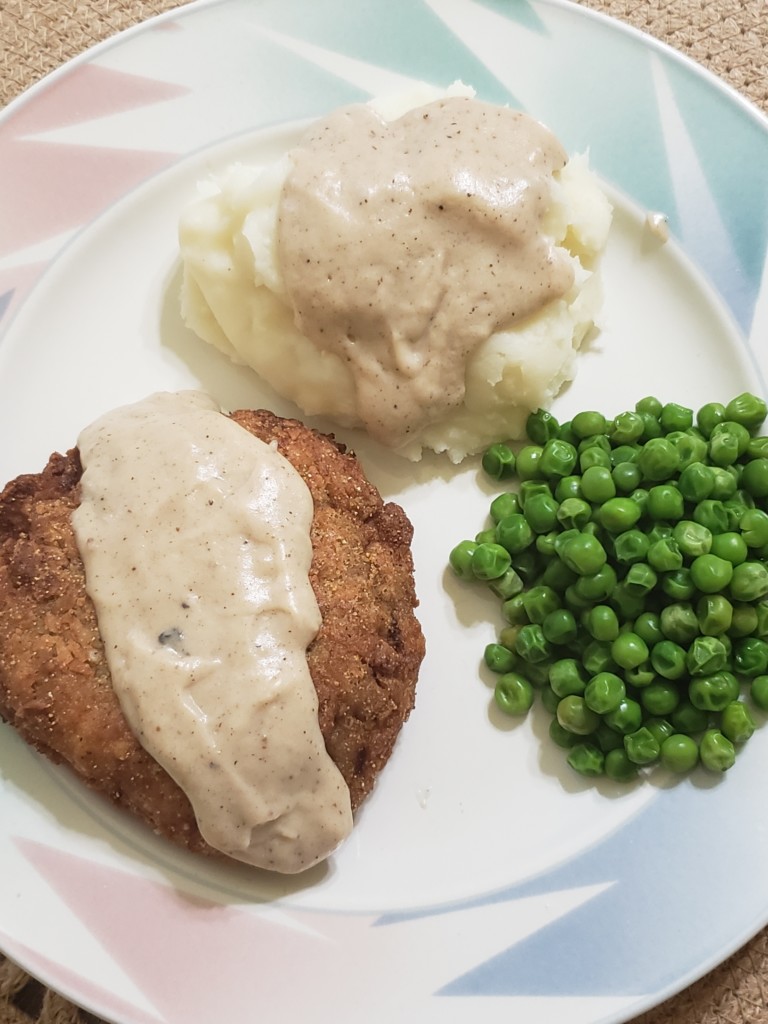 Chicken Fried Hamburger with White Gravy
Description
A simple variation on the classic chicken fried steak substituting ground beef for the cube steak. This recipe includes a white (milk) gravy made from the pan drippings.
Adapted from Spicy Southern Kitchen
Chicken Fried Hamburger
Breading/Frying
White Gravy
Instructions
Chicken Fried Hamburger
Season ground beef with salt and pepper. Divide into 8 equal sized (3 oz) portions and form into patties approximately 1/2 inch thick.

In a large bowl add flour, cornmeal, baking power, salt, garlic powder, onion powder, black pepper, and cayenne pepper, and whisk until well combined. Pour buttermilk into a separate shallow bowl or dish.

Bread the beef patties by first dredging in the flour mixture, then dipping in the buttermilk to coat, then dredge again. Make sure each patty is evenly coated with flour.

In a large skillet, pour 1/2 inch of vegetable oil and heat over medium-high heat to approximately 350 degrees.

Fry patties in the skillet, four at a time, for 3 to 4 minutes per side. Remove and drain on paper towels.
White Gravy
After removing the last of the patties from the skillet, drain off all but 1/3 cup of oil, keeping the browned bits, and return to the stove on medium heat.

Add flour and whisk for 1 minute. Whisk in milk, onion powder, salt, and pepper. Stir/whisk frequently 3-5 minutes or until thickened.

(If the gravy gets too thick, whisk in small amounts of milk until it reaches the desired consistency.)
Serving Size 1 patty (3 oz)
Servings 8
---
Amount Per Serving

% Daily Value *

Total Fat 14g

22

%

Saturated Fat 6g

30

%

Cholesterol 82mg

28

%

Sodium 1176mg

49

%

Potassium 620mg

18

%

Total Carbohydrate 41g

14

%

Dietary Fiber 2g

8

%

Sugars 7g

Protein 31g

62

%
---
Calcium

16

mg

Iron

25

mg

Vitamin D

153

IU
* Percent Daily Values are based on a 2,000 calorie diet. Your daily value may be higher or lower depending on your calorie needs.
chicken fried steak, hamburger, ground beef, fried, milk gravy