It's Christmas week, and with all the rushing around for last minute shopping and preparations I wanted to have something that was relatively simple and could provide either a hearty meal for a small crowd or some delicious leftovers to help get through the next few days. That's when I came across this recipe.
You're probably thinking "didn't he just try a recipe a few weeks ago called Pasta Fagioli something?" Yes I did – a copycat version of Olive Garden's Pasta e Fagioli Soup, which you can find here. The name "Pasta e Fagioli" translates to "pasta and beans", and "Pasta Fagioli al Forno" translates to "baked pasta and beans", which makes sense given this is a casserole.
I've made two changes from the original recipe as written:
It called for only one can of Cannellini beans for a 13 x 9 casserole, and the result is the "beans" portion of the dish gets lost in all the other ingredients. I have altered the recipe card by adding half a can of beans; adjust the quantity as you see fit for your tastes.
It called for peeled whole tomatoes that are hand-chopped and then mixed into the sauce. I substituted crushed tomatoes to save time.
Adapted from Taste of Home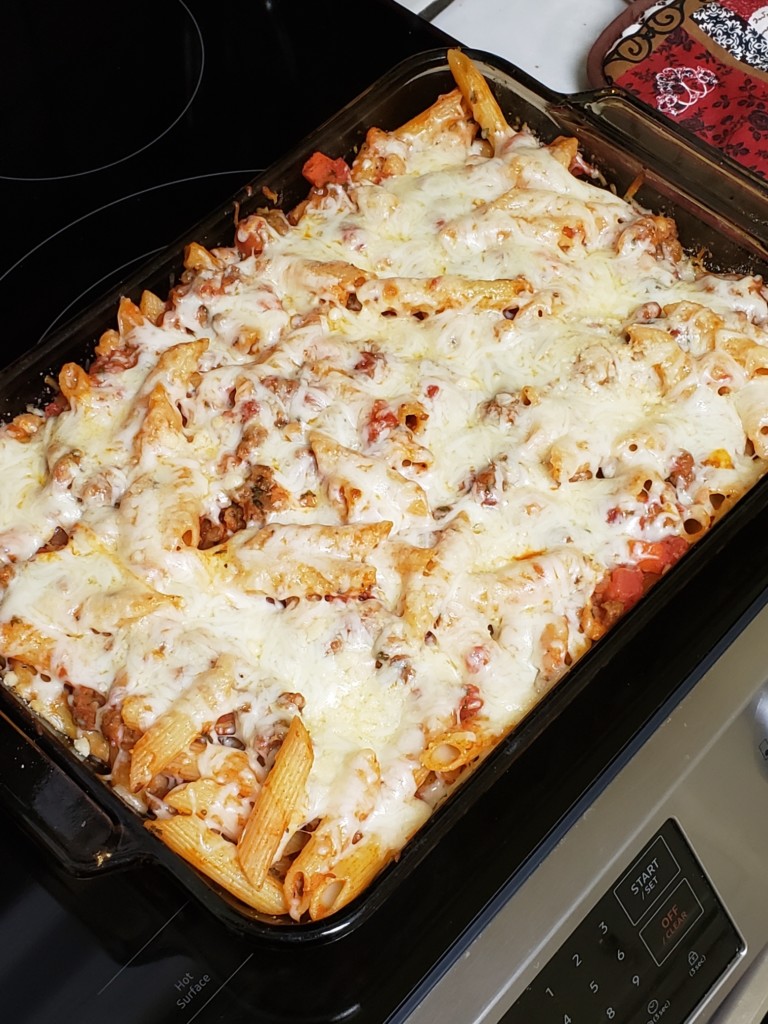 Pasta Fagioli al Forno
Description
A simple and filling "Baked Pasta and Beans" casserole that's great for busy weeknights.
Adapted from Taste of Home
Instructions
Prepare the pasta according to package directions, cooking to al dente. Drain and set aside.

Preheat oven to 350 F. Spray a 13 x 9 casserole dish with nonstick cooking spray.

In a large skillet add sausage, onion, carrot, celery, and garlic, and cook on medium-high heat until the sausage is no longer pink (6-8 minutes), breaking the sausage into crumbles as it cooks.

Add tomatoes, tomato paste, oregano, salt, basil, red pepper flakes, and black pepper to the meat mixture and stir to combine. Bring to a boil, then reduce heat and simmer uncovered for 10 minutes.

Add beans, half of the parsley, and half of the Parmesan cheese to the meat mixture. Stir to combine. Stir in pasta and mix until well blended. Transfer mixture to the casserole dish. Top with provolone/fontina cheese and remaining Parmesan cheese.

Cover dish with foil and bake for 20 minutes. Remove foil and bake another 10 minutes or until cheese is completely melted. Remove from oven and let rest 5 minutes. Garnish with remaining parsley before serving if desired.
Servings 8
---
Amount Per Serving

% Daily Value *

Total Fat 24g

37

%

Saturated Fat 12g

60

%

Cholesterol 56mg

19

%

Sodium 1294mg

54

%

Potassium 477mg

14

%

Total Carbohydrate 50g

17

%

Dietary Fiber 9g

36

%

Sugars 9g

Protein 32g

64

%
---
Calcium

37

mg

Iron

25

mg
* Percent Daily Values are based on a 2,000 calorie diet. Your daily value may be higher or lower depending on your calorie needs.
Notes
Mild, sweet, or hot Italian sausage may be used.
If Cannellini beans (also known as White Kidney beans) are not available, Great Northern beans or Navy beans may be substituted.
In the original recipe, only one can (15 oz) of beans was used. This recipe increases the amount to 1 1/2 cans to balance better with the pasta. Adjust the quantity as you see fit for your needs.
Pasta, cannellini, Italian sausage, Rotini, casserole