Of the many different types of cuisine I've tried to cook here, one stands out as being the most difficult to get right – Asian. While I've had good luck with many dishes, every now and then one comes out that isn't quite right… either it looks perfect but tastes a bit "off", or tastes great but looks "off", or I can't find some key ingredient, and the list goes on. I suppose that's reason enough for me to never consider a career as a cook in an Asian restaurant.
This dish is among the "tastes great but looks 'off' " group. I found all the right ingredients (including gochujang sauce – more on that later), and it tastes really good, but it doesn't look like the finished product on the website where I found this recipe. The site showed a serving where the beef looked coated in almost a glaze, and mine came out looking more like a gravy. I have a guess for why; I did make one change to the recipe in that I sautéed the meat first before adding the sauce (which I've left out of the instructions here). Perhaps I'll give it another try someday without that step and see if it comes out looking more like the original, or maybe if you try it and get a different result you could let me know.
The key flavoring for this dish comes from gochujang (go-choo-jang) sauce. It's made from the gochujang chili pepper, which is native to Korea and is a popular seasoning for many dishes. It can be found in stores as a sauce or as a paste; be sure to use the sauce as the paste has a more concentrated flavor that could be overpowering.
Adapted from I Heart Eating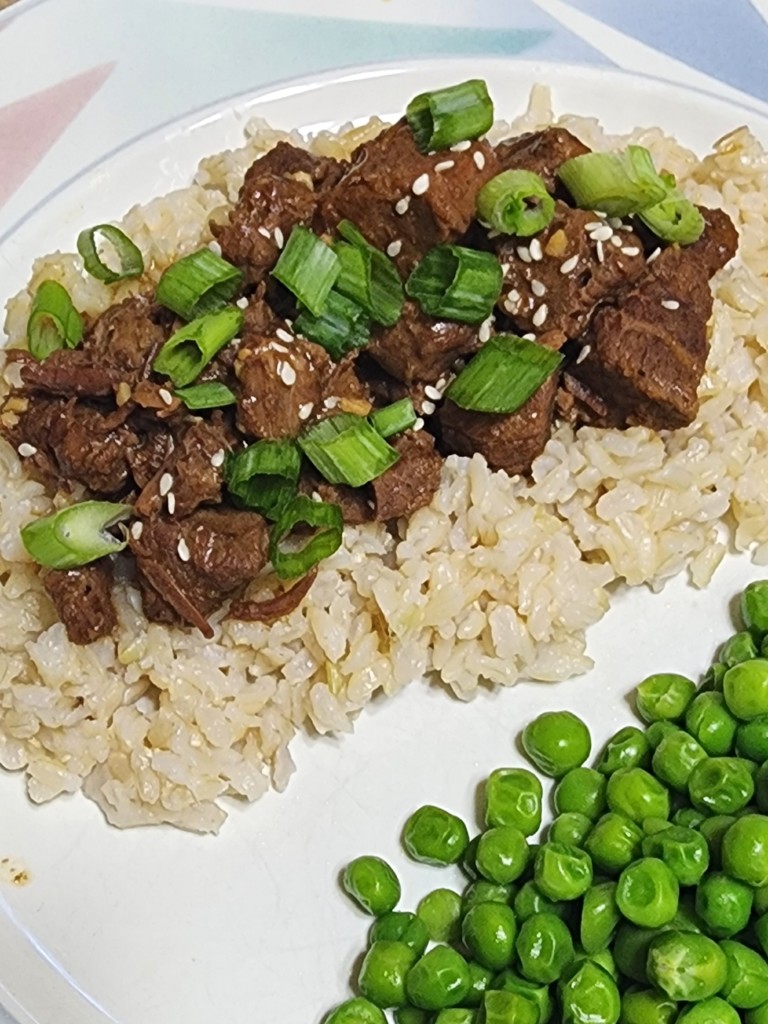 Instant Pot Korean Beef
Description
A delicious Asian dish that cooks quickly in an Instant Pot. The key to this is the inclusion of gochujang sauce, which adds a unique flavor from the gochujang chili pepper that is native to Korea.
Adapted from I Heart Eating
Instructions
Place the beef in the Instant Pot. Combine all remaining ingredients except sesame seeds and green onions in a medium bowl and mix thoroughly. Pour the mixture over the beef.

Close and lock the lid of the Instant Pot, and turn the vent valve to "Sealing". Set the controls to pressure cook on High for 40 minutes.

When cooking has finished, allow the Instant Pot to natural release for 25 minutes. At the end of the natural release, turn the vent valve to "Venting" to remove any remaining pressure. If desired, garnish with sesame seeds and/or sliced green onions when serving.
Serving Size 8 oz
Servings 8
---
Amount Per Serving

% Daily Value *

Total Fat 15.6g

24

%

Saturated Fat 4.5g

23

%

Cholesterol 151mg

51

%

Sodium 1119mg

47

%

Potassium 78mg

3

%

Total Carbohydrate 10.5g

4

%

Dietary Fiber 0.9g

4

%

Sugars 7.2g

Protein 51.8g

104

%
---
Calcium

55

mg

Iron

6

mg
* Percent Daily Values are based on a 2,000 calorie diet. Your daily value may be higher or lower depending on your calorie needs.
Notes
Gochujang is sold in both a sauce and a paste. Be sure to use the sauce as the paste is highly concentrated and may make the dish too spicy. If additional spice is desired, increase the amount of sauce from 2 to 4 tablespoons.
If gochujang sauce is not available, substitute by adding these to the sauce mixture:

2 teaspoons Sriracha sauce
2 teaspoons soy sauce
2 teaspoons brown sugar (or more to taste)

Serving suggestion

brown rice (as shown in the recipe photo) and steamed vegetables
Korea, beef, gochujang, sauce, Instant Pot