It seems I'm finding more recipes lately that call for cooking with alcohol. This one is right there with them. It calls for specific brew – an IPA (India Pale Ale), which if you're not sure what that is, here's a little backstory:
A pale ale is one where the barley used in the malting process is only lightly roasted (compared to more traditional brews), resulting in a lighter colored beer. Back in the 1700s a brewery in England was interested in widening its trade and struck up a deal with the East India Company to ship its ales to India. After some experimentation, it was found by increasing the hops in the malting process (making the ale "hoppier"), it was better able to endure the transport from England to India and still retain a high quality taste. This process was picked up by other brewers and the name "India Pale Ale" or "IPA" was coined to describe any ale produced using this method.
In this case, as in most dishes that call for alcoholic ingredients, the actual alcohol simmers out during the cooking process, leaving the flavors of the drink to blend into the food. Pale ales, like other malted beverages, can impart a bitter taste, and are often combined with other ingredients to balance the taste or sometimes substituted completely if the taste is unacceptable.
Adapted from Wright Brand Bacon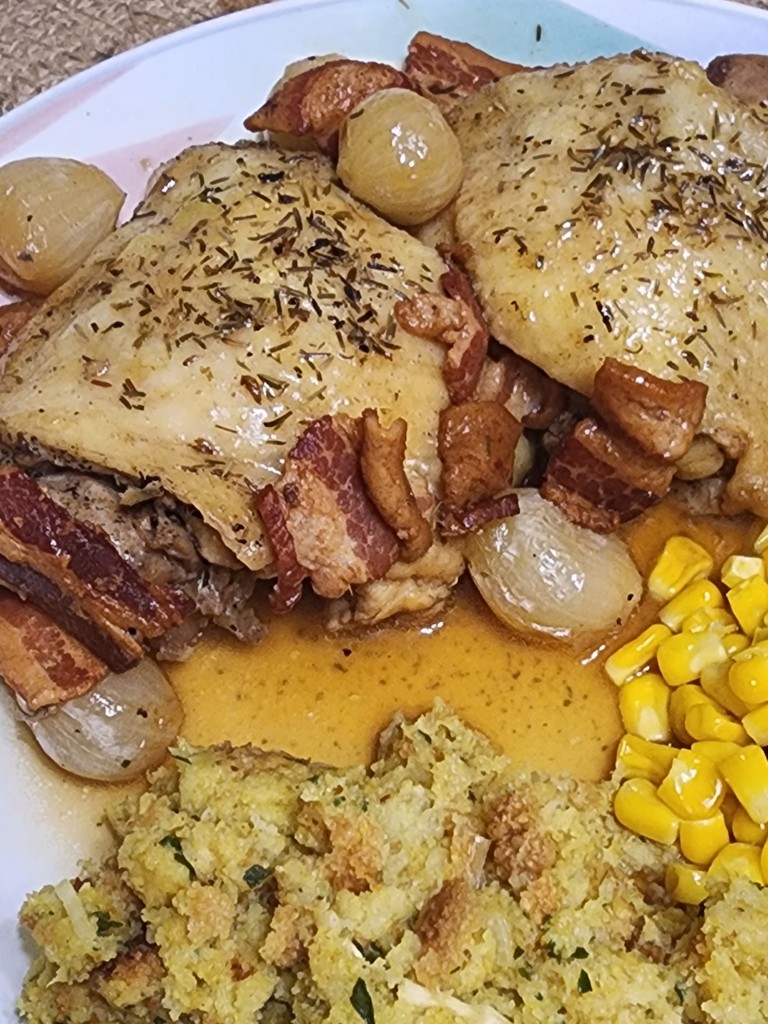 Bacon and Ale Skillet Braised Chicken Thighs
Description
A simple dish of braised chicken cooked with bacon and onions in a light ale sauce.
Adapted from Wright Brand Bacon
Instructions
Rinse off chicken as needed, then pat dry. Season on both sides with salt and ground pepper. Set aside.

Heat a large skillet or Dutch oven over medium-high heat. Chop the bacon into 1/2-inch pieces and cook until crispy. Remove from skillet and place on a plate covered with a paper towel to drain.

Add the chicken to the skillet, skin side down, and cook until golden brown (approximately 7-8 minutes). Turn chicken over and cook the other side another 5-6 minutes. Remove from the skillet and place on a plate covered with a paper towel to drain.

Add the onions to the skillet and brown gently on all sides (approximately 10 minutes).

Drain off excess fat from the skillet and return to the stove. Add the malt vinegar and cook until reduced by half (1-2 minutes). Using a wooden spoon, scrape up any brown bits stuck to the skillet.

Add the ale to the skillet and bring to a boil. Add bacon and chicken (skin side up) back to the skillet, and sprinkle thyme on top of the chicken. Reduce heat to a simmer and cook 20-25 minutes or until the chicken reaches an internal temperature of 180 F. Allow to rest 5 minutes before serving.
Serving Size 1 thigh
Servings 8
---
Amount Per Serving

% Daily Value *

Total Fat 17.1g

27

%

Saturated Fat 5.3g

27

%

Cholesterol 72mg

24

%

Sodium 330mg

14

%

Potassium 209mg

6

%

Total Carbohydrate 12.6g

5

%

Dietary Fiber 0.1g

1

%

Sugars 2.2g

Protein 22g

44

%
---
Calcium

2

mg

Iron

8

mg
* Percent Daily Values are based on a 2,000 calorie diet. Your daily value may be higher or lower depending on your calorie needs.
Notes
The original recipe listed the serving size as 2 thighs. This version has been adjusted to use a serving size of 1 thigh.
If a less strong beer taste is desired, replace one of the bottles/cans of IPA with 12 ounces of chicken broth.
Other smoked flavors of bacon can be used (hickory, mesquite, etc.).
chicken, bacon, IPA, pale ale, pearl onions, braised chicken